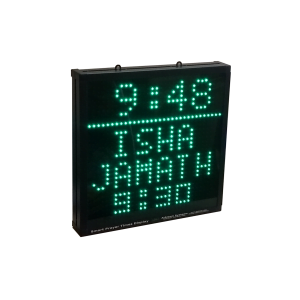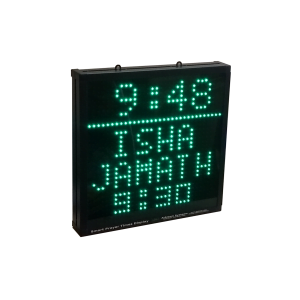 [H1] Mini Smart Prayer Times Display for Masjids, Organizations, Offices & Homes | Azan Clock | Prayer/Salah/Namaz Times LED Display
₹6,000.00 GST extra (18%)
Mini Automated WiFi Enabled (IoT ready) Salaah/Namaz (Prayers) Timings LED Display & Digital Clock for Masjids, Madrasas, Maktabs, Offices & Homes. Fully Automatic with Jamath notifications. Update info directly from Android App or from Phone/PC's Web Browser Wirelessly on other Devices.
This is a smaller version (14″x14″ inch only) Minimalistic Smart Prayer Times & Info LED Display for Masjids, Maktabs, Islamic Centers, Offices, Schools, Public Offices, etc to show upcoming Jamath Times, Start & End of Prayers (Azan Times) & other Custom Message.This display has been designed to be Minimal, Small & Compact yet Futuristic & Smart enough to show relevant info as required.Our LED Automatic Prayer Times & Smart Display supports over the air (OTA) firmware updates, additional features, modules & customization, additional languages can be added as and when made available.
Prayer Times can be changed simply by connecting a Smartdevice (Smartphone/PC/Tablet) to this Display's inbuilt Hotspot WiFi and opening the Android App or navigating to a webpage on other devices. This does not require any WiFi Router or Internet Connection in the Masjid as the Display itself becomes a WiFi Hotspot and can be directly connected to from Phones for updating prayer times.
Features:
• Show all Jamath Times including Jumuah
• Displays all Times, Events & Info with 5 Sec Duration each in Idle mode
• Automatically change to fixed display showing upcoming Jamath/Prayer/Event Time few minutes before the Jamath/Prayer/Event Time
• 60 Seconds Countdown before Jamath with Beep alert when time's reached
• Start & End Times of All Prayers automatically updated daily based on City Settings
• Automatic daily update of Maghreb Time (can be adjusted to add/subtract few minutes)
• Display Tulu-e-Aftab/Sunrise, Ishraq & Zawal (Auto updated daily based on City Settings)
• Display Saher & Iftar Times in Ramazan (Auto updated daily based on City Settings)
• Display Masjid/Organization Name (Can be changed from Remote App)
• Display Day & Date
• Asr Calculation: Hanafi or Shafi (Select from App)
• Prayer Settings for any City/Town/Village in India and 1000s of Cities worldwide
• Android App to update Prayer Timings directly from Phone
• RTC (Real Time Clock) to maintain time when Device is turned Off
• New features via OTA updates
• Built on latest Internet of Things (IoT) technologies with the ability to integrate future enhancements & requirements
Modes of Operation:
The AlAleem WiFi Enabled Masjid Display operates in two modes:
Info Mode

In this mode, the Display toggles over all the Prayer/Jamath Times, Azan Times and other info like Ishraq Time, Name of Masjid/Org etc
Event Mode:

This mode shows only the upcoming event like Jamath Time. This is automatically rendered 20 minutes prior to start of Jamath & is active till 5 minutes post event i.e Jamath time.
Example: If the Zuhr Jamath is at 1.30PM, this mode starts at 1.10PM and changes into Idle mode at 1.35PM
In this mode, there's also a countdown timer as the Jamath time draws nearer (1 min before)
Weight
3 kg
Dimensions
34 × 34 × 6 cm
LED Color

Green, Red, Blue, White

Input AC Voltage Range

Standard: 220-240 VAC

Devices Supported

Android & Windows Phone (Chrome & Firefox)
iPhone – Tested on iPhone 7 with iOS 12 – Safari & Chrome
Windows 7, 8 & 10 (Chrome, Firefox & Edge Browser)
Not tested on Macbook\'s Safari Browser

Power Rating

25 W

WiFi

IEEE 802.11 b/g/n, 2.4Ghz

WiFi Password Protection

Yes, WPA2 Authentication

Brightness Control

Yes, adjustable from 0 to 100

Real Time Clock

Yes, with CMOS Battery to retain Time when power off

Buzzer

Yes
Buzzer alert at Jamath Time
Also chimes every hour

Firmware (OTA) Updates

Yes, through Upgrade Mode wirelessly from Phone/PC

AC Outlet Plug Type

Indian, Type D

Taqweem / Prayer Calculation Method

Muslim World League – Region Used – Europe, Far East, parts of US
Islamic Society of North America – Region Used – North America (US and Canada)
Egyptian General Authority of Survey – Region Used – Africa, Syria, Lebanon, Malaysia
Umm al-Qura University, Makkah – Region Used – Arabian Peninsula
University of Islamic Sciences, Karachi – Region Used – India, Pakistan, Afganistan, Bangladesh
Shia Ithna Ashari, Leva Research Institute, Qum – Region Used – Some Shia communities worldwide

Asr Calculation - Juristic Method

Standard (Hanbali, Maliki, Shafi), Hanafi

Daylight Saving Time

Manual

Hijri Calendar

No

Daily/Weekend Alarms

No

Display Masjid/Org Name on LED

Yes, can be edited from Config Page

Indoor/Outdoor

Indoor use

Rainproof

No

Cabinet Body

Aluminium, Acrylic front Sheet

Warranty

1 Year

Product Dimensions

34cm x 34cm x 6cm (Length x Height x Width)